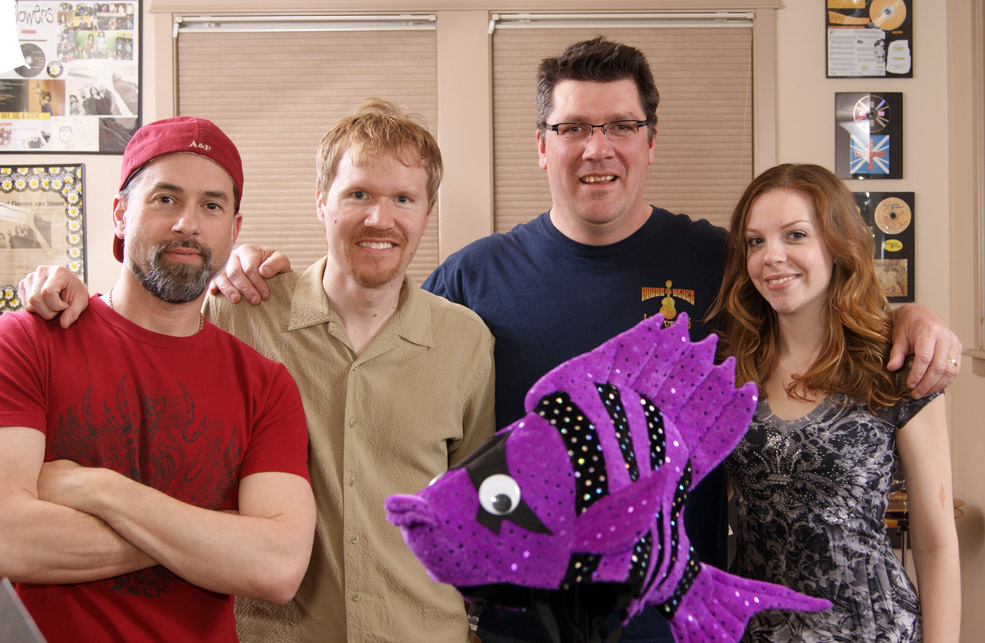 It was a beautiful sunny Spring Saturday in the Pacific Northwest (one of the few)…with McChord AF Base on my right and a windshield full of Mt. Rainier in front of me, I soon entered an unassuming Tacoma studio to start my swim in The Aquarium!!! As part of NWCZ Radio (Independent Northwest Music), The Aquarium is a talk show hosted by Ray "King Fish" Hayden and "Big Mike" Renville that highlights singers and songwriters from the Pacific Northwest. "We will focus on getting to know the artists and what drives them to pursue the life of being a songwriter." In a nutshell, these guys are huge music lovers and supporters of the NW music scene – and they and their crew were not only total professionals, but a great group to hang out with! I had a blast!
Airing Tuesday, April 26th from 7-8pm (then posted later on iTunes), you'll hear some details of my songwriting and recording history, my current works and promotional endeavors, and my own efforts to support the Northwest music scene through Songwriters in Seattle. Musically, I did a solo acoustic live performance of "Come Back To You" which will be fun to hear back. At the end we got to goof around a little bit with some Bohemian Rhapsody shenanigans so we'll see what Ryan the sound engineer comes up with putting that together! So please tune in and check it out.
You can also connect with The Aquarium on Facebook and Twitter:
Link to The Aquarium on Facebook
Link to The Aquarium on Twitter
Huge thanks go out to King Fish, Big Mike, Scully, Ryan and photographer Bill Bungard for the fun and support – hope we can do it again sometime soon!
---