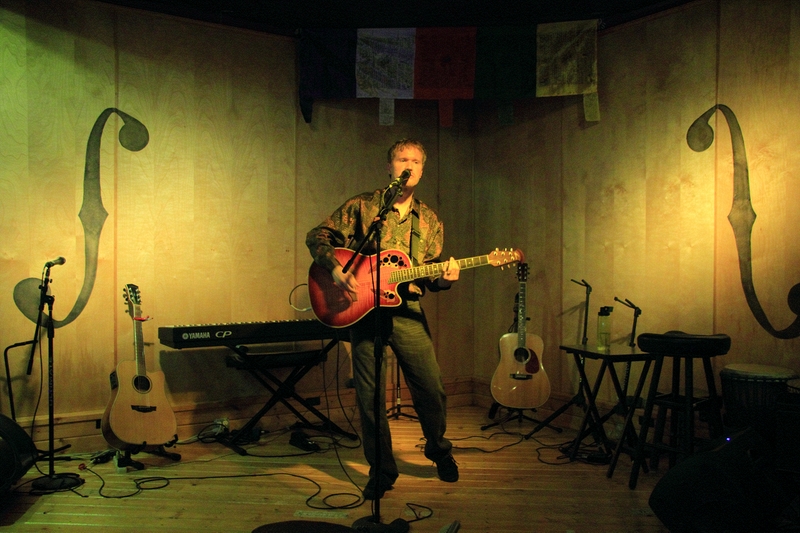 I haven't been performing that much recently due to my current focus on finishing recording of the new album and producing multiple side projects, so it's a rare coincidence of timing that I would be playing back to back shows on weekend evenings. Both this Saturday and Sunday (July 16th & 17th) I'll be doing unplugged shows at Soulfood Books in Redmond. I love this place and I love the people there, not to mention these will be two great but different shows. I'll even be doing completely different sets on the two nights. First, on Saturday the monthly Songwriters in Seattle showcase will kickoff at 8pm. There will be four performers for the evening and while I host the evening from the beginning and make sure everything is running smoothly, I will be the closer for the night actually performing around 9:30. My setlist for this one is looking like this:
I Can't Say
Bankrupt Generation
*What Brings People Together
Certainly
*Colored Life
Angels Don't Hide
*Cider & Roses
*=band in a box
The show on Sunday is a very special surprise that just recently came together featuring a musician from Nepal, Gambu Sherpa. My wife toured around Nepal for a month last March as a photographer for Gambu and a bunch of other musicians (including Clint McCune from Soulfood), so when it looked like he was going to be in the area, Erika helped arrange me as part of the show. This is going to be a very cool night with Clint playing as well. I will likely open the show at 7pm with a setlist that looks like this:
Come Back To You
Show Me
Ride the Wind
This Journey
Not a Moment Too Soon
After the Rain
It All Comes Together
Water Colors
The Age Old Story
I'm very excited to be a part of both of these and am only moderately nervous about entering these performances straight out of a three-day camping trip. If I can sing for two nights after the sleep deprivation and campfire smoke inhalation that comes with the territory there, I guess I'll consider myself ready for anything! I hope you can join me for at least one of these two great and very different performances while supporting unique efforts in the community – Songwriters in Seattle and the visit of Gambu Sherpa. You can also visit www.soultribetv.com to watch the shows streaming live. I feel honored to be a part of both of them and thank Soulfood Books for being fantastic hosts!
---