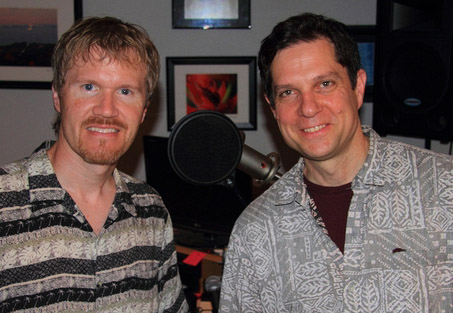 It's the end of July already and time to get to know another member of Songwriters in Seattle! This month my guest is Andy "Roo" Forrest – a creative entrepreneur outside of music, who brings both a clever lyrical and harmonic sense to his songs. He has a great blend of pop, folk, jazz, and country that feels familiar yet is wholly original at the same time. To me, it is really indicative of how creativity crosses boundaries, and influences from other parts of our lives can gel in a songwriter's music to produce something unique to the individual songwriter.
For the podcast, we dive into Roo's new, self-titled CD out now ("Roo") and we play a couple cuts from the disc as well as discuss the many great guest musicians he has on the recording. As an independent businessman, we tackle a little bit of music business discussion as well for a different perspective than one might usually get from a musician. As a grand finale, Roo plays a new song live in the studio – a sweet solo acoustic and vocal piece perfect for the summer(!) called "I Like the Snow." A little Christmas in July for ya!
Even though his website is a bit of a work in progress, it's still a good place to go to find the connections to him on Reverbnation, iTunes, Facebook, CDBaby and more. So please check out rooforrest.com and show him some Songwriters in Seattle love! Then get over to my podcast page and have a listen…I hope you enjoy it and keep an eye out for our next talented local songwriter next month!
---